Drains Clogged? We can help.
We get drains cleaned fast! Diamondback plumbing carries 3 different drain and sewer cleaning machines on every service vehicle for any size clog, no worries most drains are cleared within an hour and with no trip or service charges and nobody beats our drain cleaning rates.
Diamondback Plumbing Repair Service provides a fleet of fully stocked vehicles containing plumbing repair parts, fixtures and drain cleaning equipment capable of clearing any size drain line, along with a trailer mount hydro jetter for high pressure scour jetting to flush a complete system. Our technicians are also trained in underground water lines and sewer detection. Diamondback Plumbing Service has all in house equipment including a backhoe and excavators for emergency plumbing repairs that require immediate attention, which results in savings to our customers.
Tub or Shower Clog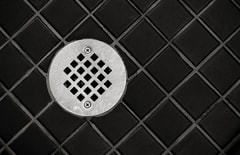 The tub or shower clog is a common stoppage that usually occurs when soap and hair combine together to coat the inner walls of your drain pipes – these build-up areas occur usually in the wall or under slab piping – due to the smaller size piping for these fixtures a ¼ inch drain cleaning cable is used to easily navigate passed the many turns and under slab p-traps to reach the clogged sections of the drain. The technician will then run the cable a 2nd time with water flow to better ensure a clean flowing drain.
     Kitchen Sink Clog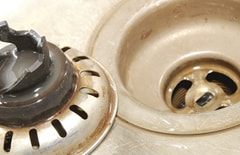 The classic kitchen sink clog is the most common of all drain stoppage service calls – the 2 inch drain piping which is required for kitchen sink lines gets a tremendous amount of grease buildup. The technician must pull the drainage piping apart under the sink and run a 3/8 minimum size cable with a sink machine which usually carries about 75 feet of cable – this drain is usually ran 2 or 3 times to clear clogged line. The line can only be scoured clean if a clean if a mini jetter hose is ran through to flush the heavy down the drain line.
Mainline Clog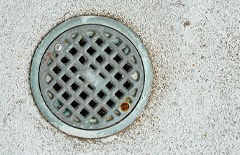 The entire house mainline clog is the most difficult and hazardous of all the drain stoppages. The mainline clog can cause an extreme amount of water sewage damage if not tended to especially if water is running into the drainage system and can't be shut off. The mainline machine carries a large ¾ diameter cable to clear through the 3 and 4 inch required drain piping for the main drain, these machines usually cost $1800 to $2500 to purchase. The main machine is ran from either cleanouts or roof vents – there is additional costs if a technician needs to access the main from the roof. Most houses built from 1978 to today usually have ground sewer cleanouts – a homeowner should never attempt to use a mainline machine without having trained experience.
Testimonials
10/13/2015
"They were fast, courteous and most of all had the best price out of all the price quotes i got to install my new water heater. I would highly recommend them and use them again. Thanks again Diamondback Plumbing!"