Plumbing Coupons
At Diamondback Plumbing, we are focused on providing our customers with the best plumbing, heating & air conditioning services and offer on-going plumbing specials. We provide plumbing coupons for the greater Phoenix areas and our coupons can be used for our popular plumbing services include: water heater installation coupons, new heating or cooling system installations and a variety of other plumbing coupons. We also offer a free camera inspection and recommend that you have routine maintenance and inspections done on all of your equipment so they last for many years to come.
We can help you with all of your plumbing needs and never charge after hour service fees or trip fees and our prices remain the same regardless weather it is late, early or nights or weekends. Diamondback Plumbing has plumber specials that change on occasion so please check back often.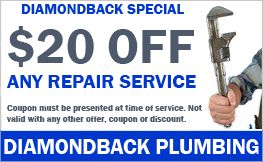 Click to Print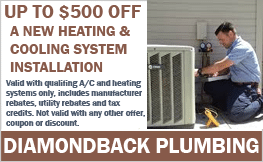 Click to Print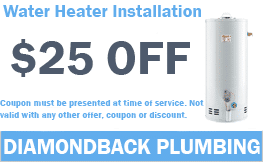 Click to Print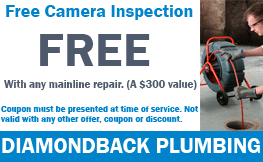 Click to Print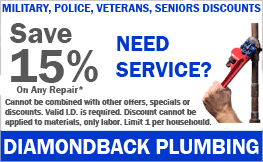 Click to Print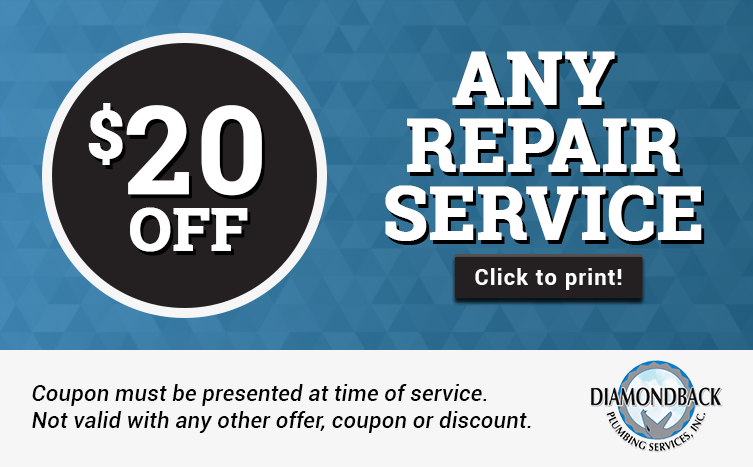 Quick Contact
Happy Customers
I used Diamondback Plumbing for a slab leak repair a few years ago and they were awesome.
Shannon S., Phoenix, AZ
I can't say enough amazing things about Diamondback Plumbing, specifically Brian and Barry.
Angel D., Chandler, AZ
Had Bryan back at my house again to investigate another potential leak and he is amazing.
Natasha S., Phoenix, AZ
I called DiamondBack Plumbing after another local plumbing company gave me what I immediately assume…
Dani C., Phoenix, AZ
I had a water leak under my concrete slab and DiamondBack Plumbing showed up the next day to locate…
Eva S., Phoenix, AZ
I needed a new shutoff valve installed on my house.
Josh K., Peoria, AZ
I'm selling a house and the buyer's inspection report noted a block sewer line.
Jason R., Scottsdale, AZ
Had a leak under the kitchen sink. Called at 11am and they were onsite at 1pm.
Jeff M., Phoenix, AZ
Owner Steve was quick to respond to my bid request on yelp, gave very competitive pricing and sent o…
K J., Phoenix, AZ