Commercial Backflow Services in Phoenix
Diamondback Plumbing will handle all your backflow services for your place of business in relation to Installation / Repair / Testing and Certification. A backflow prevention device in the cross-connection points of your plumbing system is the only way to keep your water supply safe from contaminants. Backflow will quickly occur when your device wears out, and this will lead to water contamination. However, keeping your backflow prevention device efficient is not something you can typically do alone. Call Diamondback Plumbing to schedule an appointment to have a backflow installed, repaired, serviced or maintenanced.
Diamondback Plumbing has been providing service in the residential and commercial sector for over 20 years with a well known reputation for great service and competitive pricing.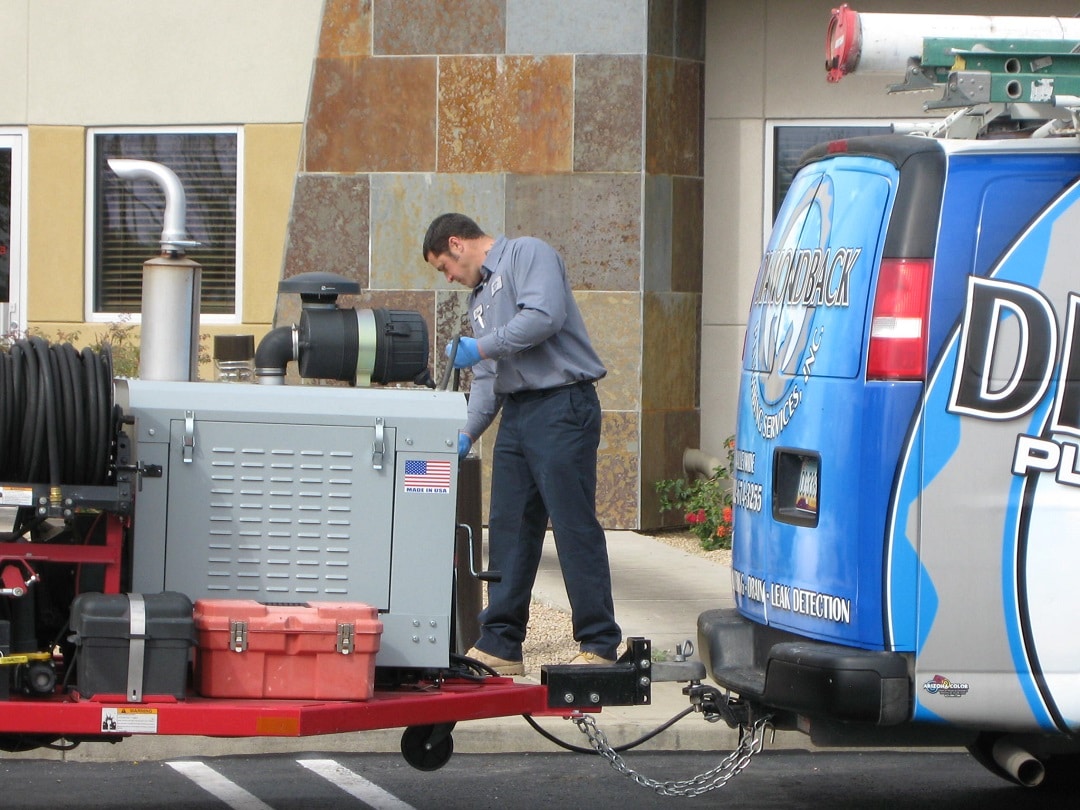 What is Backflow?
Backflow occurs when the pressure in a domestic water system residential and or commercial has a drop in pressure thus allowing water to siphon back into the water supply. A backflow device prevents this by releasing all back water pressure out of a relief valve dumping the excess water onto the ground.
Repair
Diamondback Plumbing is the backflow plumbing company you can trust when it comes to commercial backflow repair and maintenance. No job is too small or big for our team. Our specialists can fix any minor or major issues present in your backflow prevention device.

Service
Diamondback Plumbing technicians can carry out backflow preventer installation, testing, repair, and certification. Our technicians will handle the necessary documents relating to your yearly inspection. After that, we will inform you about the schedule of the next backflow test. Our technicians can also examine your plumbing system to see if your backflow device is still working. Let us know if you want our team to conduct a backflow test on your system today.
Installation
Whatever type of business you are running, it should have a backflow prevention device. A backflow preventer has automatic check valves that prevent the contaminated water from flowing back into your water supply. When properly installed, your backflow prevention device will stay effective.
Maybe, you want to install a backflow preventer on your water line. DIY backflow preventer installation is a regulated event regulated by both federal and local levels. All backflow installers and testers must be certified via a proctor and must have a license as well as a tester number.
It is not easy to install a backflow prevention device because it is a complex piece of equipment. With the right skills and knowledge, our team can properly install it to your water system. Our technicians are experts in the installation of a backflow prevention device. Contact us now, and feel free to choose a schedule for your backflow preventer installation.

Why Choose Diamondback Plumbing?
We offer emergency commercial plumbing services.
We are available 24/7 and have on call licensed technicians.
We are a licensed and insured plumbing company.
We provide free estimates.
We have a known reputation for excellence and quality commercial plumbing work.
Through the years, Diamondback Plumbing has provided quality services and competitive pricing for commercial backflow services. We offer different commercial plumbing services like water leak detection, sewer lines repair, and many more. Our team will also give you tips on how to keep your plumbing system operating at its best. Most businesses and homeowners in Phoenix choose our team when it comes to commercial backflow installation, repair, and maintenance.
We offer some of the best rates for all plumbing services we provide and never charge extra fees for emergency repairs. Feel free to contact us if you have questions, or email us to get a free estimate. All the work completed by Diamondback Plumbing is per UPC Code and IFC Code.
Happy Customers
I used Diamondback Plumbing for a slab leak repair a few years ago and they were awesome.
Shannon S., Phoenix, AZ
I can't say enough amazing things about Diamondback Plumbing, specifically Brian and Barry.
Angel D., Chandler, AZ
Had Bryan back at my house again to investigate another potential leak and he is amazing.
Natasha S., Phoenix, AZ
I called DiamondBack Plumbing after another local plumbing company gave me what I immediately assume…
Dani C., Phoenix, AZ
I had a water leak under my concrete slab and DiamondBack Plumbing showed up the next day to locate…
Eva S., Phoenix, AZ
I needed a new shutoff valve installed on my house.
Josh K., Peoria, AZ
I'm selling a house and the buyer's inspection report noted a block sewer line.
Jason R., Scottsdale, AZ
Had a leak under the kitchen sink. Called at 11am and they were onsite at 1pm.
Jeff M., Phoenix, AZ
Owner Steve was quick to respond to my bid request on yelp, gave very competitive pricing and sent o…
K J., Phoenix, AZ