Phoenix Slab Leak Repair & Detection – Diamondback
Are You Looking for a Phoenix Slab Leak Repair Company?
Diamondback Plumbing has a well-known reputation in the Phoenix Valley for slab leak repair due to providing superior plumbing services at reasonable prices. We have a solid reputation, and much of our success has come from happy customers that keep coming back to Diamondback. All the work completed by Diamondback Plumbing is per UPC/IRC Code for residential plumbing.
Notice cracking or popping sounds, warm spots on your floor, or notice weak water pressure? You may have a slab leak! A Phoenix slab leak can cause significant damage to your home or business and needs to be located and repaired as quickly as possible. They often develop over time and go unnoticed. Time is of the essence to have it fixed by a licensed and insured plumbing company, so it does not do permanent damage to your home or business.
There are other ways to determine if you might have a slab leak in Phoenix, typically homes that were built before the 1970s had iron piping and slab foundations.  Slab leaks also can be caused by a pipeline that was laid incorrectly when the house was built, and any slight movement in the foundation can cause the pipes to leak.
These cracks can stem from a variety of causes including;
high water pressure or water pressure surges
poor soldering or original piping
chemicals running through the pipe
Foundation movement
Kinked or damaged lines
Some clues that might suggest you have a Phoenix slab leak;
increases or surges in your water bill
increases in your gas bill
sounds coming from the wall
water spots on the floor
wet carpet areas
We Offer Phoenix Slab Leak Repair and Detection in the Greater Phoenix Metro Area
The location and severity of your slab leak will determine how long it will take to repair. In some cases, a simple leak that is relatively shallow in a crawlspace can be fixed in a half day. However, for deeper, foundational links, the process can take upwards of 2–3 days to repair as concrete may need to be removed and pipes replaced.
Technology has come along way, and it is now possible to determine the exact location of the slab leak before the work begins, which allows the customer to save time and money.
Despite the slab leak problem, the good news is that most insurance companies cover slab leaks and will cover most if not all, of the cost of the repairs. Call your homeowner or business insurance representative to confirm your coverage, or our team of professionals can assist you with the breakdown of the repair costs.

If you have any questions about a potential slab leak and would like to talk with one of our Phoenix plumbing professionals, call Diamondback Plumbing today to schedule an estimate before the problem gets any worse.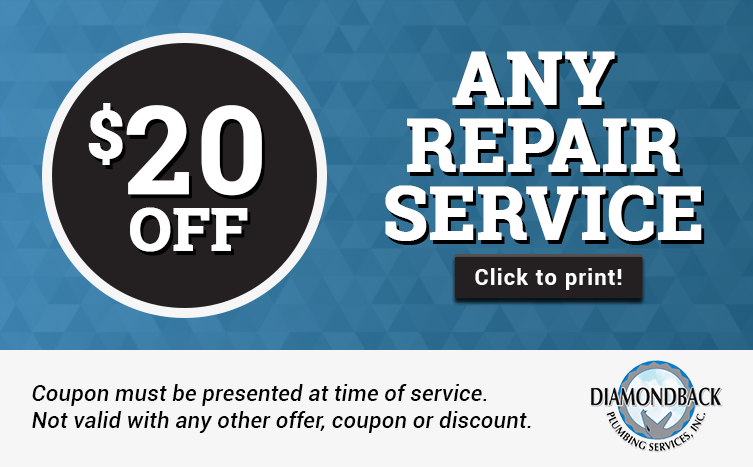 Quick Contact
Happy Customers
I'm selling a house and the buyer's inspection report noted a block sewer line.
Jason R., Scottsdale, AZ
Had a leak under the kitchen sink. Called at 11am and they were onsite at 1pm.
Jeff M., Phoenix, AZ
Owner Steve was quick to respond to my bid request on yelp, gave very competitive pricing and sent o…
K J., Phoenix, AZ
Love these guys!! Great techs and fair prices!
Karla W., Phoenix, AZ
The technician showed up and was able to get to work to find the issue in our front yard.
Jared H., Phoenix, AZ
Chris T at Diamondback installed our new water heater.
Lori H., Scottsdale, AZ
We have used these guys a couple times.
Kattie S., Scottsdale, AZ
We have used diamondback plumbing several times and each and every time their team impresses me!
Diana Z., Glendale, AZ
Ozzie arrived on time and replaced my aging water heater.
Phil H., Phoenix, AZ