Scottsdale Commercial Toilets
We have built a solid reputation providing all of our customers with the best possible plumbing service at competitive prices. This reputation has been built on customers having a great experience with Diamondback Plumbing, and they keep coming back for any plumbing needs and concerns they have.
One of the essential parts of a commercial area to maintain is the bathroom. Businesses involving customer service need to have a clean and well-maintained bathroom.
But no matter how often you maintain toilets and drains, problems can still arise sooner or later. Have you ever had these troubles with your toilets?
"Phantom flushes."
Weak flushes
Water trickling into the toilet bowl or the tank
The toilet bowl empties slowly
Clogged and overflowing toilets
Leaky toilets
Dysfunctional toilets and drains can be such a big problem, and finding solutions on your own can be a hassle and time-consuming. Seeking professional help would be the best option for you.
Diamondback Plumbing consists of professional commercial plumbers. We specialize in every aspect of commercial toilet plumbing, which includes installation, replacement, and repair. We can also do other emergency plumbing needs like faucet repair, shower repair, and bathroom plumbing issues.
Scottsdale Commercial Toilet Leak Repairs
Do you think that your toilet has leaks? Check the concrete if it has water spots. Next, check if there are any wet spots around the source of the water. Try to see if the wet areas appear after flushing. Then, avoid flushing for a while to see if the spots go dry. If you notice that it only leaks after flushing, this could mean that there is a drain leak.
Leaking and running water are common problems with toilets made during the 1990's. Older toilet models use an average of 3.5 gallons of water with each flush. Newer toilet models use 1.6 gallons only, so replacing old toilets is a great way to save water.
In repairing toilet leaks, replacing old toilet models with new ones is the best option. But when you need a quick solution to your leaky toilets, our company can help you with that. Contact us, and our professional plumbers will be there to fix the problem.
Scottsdale Commercial Clogged Toilets
Clogged toilets can be such an inconvenience, especially when they're in commercial or business locations. Restrooms with water that rises and spills over the bowl are just unsightly. The water floods the floor leaving the bathroom with a revolting odor.
What do you do when this happens? Check for any obstruction within the drain line. If there isn't any, there could be a problem with the sewer. Your sewer lines can get clogged and may need to have the sewer drain lines cleaned.
To quickly fix the problem, contact an expert team like Diamondback Plumbing to immediately diagnose the problem. We can help you when you need to unclog toilets quickly for commercial locations or restaurants. Our Scottsdale team of plumbing professionals can get to you quickly and usually have the problem fixed within the same day.
Scottsdale Commercial Toilet Installation
Installing toilets can be affordable and accessible with Diamondback Plumbing. Our experienced technicians can help you with toilet installations and new toilet systems that help your establishment conserve water. When we are installing a new toilet system, it is also recommended to clean or, if needed, replace your drain system as well. If you're quite troubled with deciding on the best toilet model, we can help you determine the best solutions based on your needs.
Commercial Toilet Replacements
Our company can help you if you're thinking of replacing old toilets and drains. Here are some signs to know if you need to consider getting replacements.
Recurring repairs
Frequent clogging
Cracks in the porcelain
The water bill is much high than normal
When these signs appear, it may be time to replace old fixtures. You don't need to wait for all of these signs to replace toilets. Our expert technicians can help you determine if there's an underlying problem that will eventually cause more significant issues in the future. With critical information, you can decide whether to repair or replace toilet fixtures.
Diamondback Plumbing is ready to serve the community of Scottsdale and surrounding areas. Our lines are always open, so call us anytime to schedule a free estimate or for our emergency 24-hour services.
All the work completed by Diamondback Plumbing is per UPC Code and IFC Code.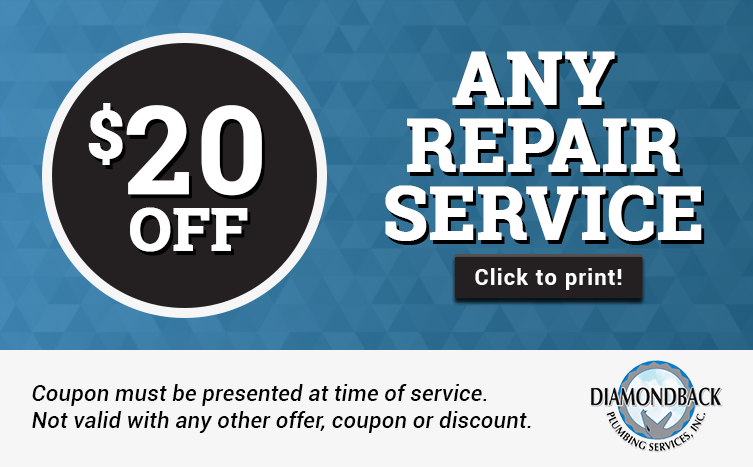 Quick Contact
Happy Customers
I'm selling a house and the buyer's inspection report noted a block sewer line.
Jason R., Scottsdale, AZ
Had a leak under the kitchen sink. Called at 11am and they were onsite at 1pm.
Jeff M., Phoenix, AZ
Owner Steve was quick to respond to my bid request on yelp, gave very competitive pricing and sent o…
K J., Phoenix, AZ
Love these guys!! Great techs and fair prices!
Karla W., Phoenix, AZ
The technician showed up and was able to get to work to find the issue in our front yard.
Jared H., Phoenix, AZ
Chris T at Diamondback installed our new water heater.
Lori H., Scottsdale, AZ
We have used these guys a couple times.
Kattie S., Scottsdale, AZ
We have used diamondback plumbing several times and each and every time their team impresses me!
Diana Z., Glendale, AZ
Ozzie arrived on time and replaced my aging water heater.
Phil H., Phoenix, AZ