Reliable and affordable Scottsdale sewer repair services are always available from us here at Diamondback Plumbing Services, Inc. Each of our sewer specialists has the training, experience, and licensing required to handle any sewer job they come across. From simple sewer repair to full-blown trenchless sewer replacement and everything in between, we have you covered. We always come highly recommended by our most satisfied customers, and we've even received an A+ rating from the Better Business Bureau! So, if you need help with your sewer, then you've come to the right place! Contact us to schedule Scottsdale sewer repair, replacement, cleaning, or an inspection today!
Our Scottsdale Sewer Services
We pride ourselves on offering a variety of fast, reliable, and affordable sewer services throughout Scottsdale and the surrounding areas. Those services include:
Sewer inspections
Cleaning
Repair
Replacement
Installation
And more!
The First Step Is Always A Scottsdale Sewer Inspection
Before our plumbers start work on any sewer repair, cleaning, or replacement work, they'll always perform a thorough Scottsdale sewer inspection. During the inspection, our plumbers insert a CCTV camera into your sewer line. The camera gives them an inside view of your pipes and allows them to quickly find the source of your sewer trouble. Without the inspection, our plumbers would have to dig unsightly trenches to even look for your sewer problem. Doesn't a quick, non-invasive sewer camera inspection sound considerably more appealing? We certainly think so. Contact us to schedule a Scottsdale sewer inspection today!
Do You Need Sewer Repair In Scottsdale?
Unfortunately, several people are wholly unaware of when to contact us for fast, reliable, and affordable sewer repair in Scottsdale. If you count yourself among the ranks of those who don't know when sewer repair is necessary, then don't fret! Thanks to our team of sewer service specialists, all you have to do is check the following list to see if it's time to contact us for sewer repair in Scottsdale:
Sewer backups
Leaks and floods
Foul-smelling drain lines
A sewer odor coming from inside your home or business
A soggy lawn or yard without any recent rainfall
If you notice any of the signs of sewer trouble mentioned above, then don't hesitate. Contact us for sewer repair in Scottsdale right away. Remember, when it comes to sewer problems, the faster you act, the better off you'll always be.
How Sewer CLeaning in Scottsdale Can Prevent Problems
Sometimes, sewer cleaning in Scottsdale is all that is needed to solve your sewer problems. In addition to solving problems, sewer cleaning services can also go a long way towards preventing the very problems they solve. Our plumbing experts recommend having us out to clean your sewer at least once a year, regardless of immediate need.
Reasons To Consider Scottsdale Sewer Replacement Services
As with anything else, sewer lines don't last forever. That's right, one way or another, you'll eventually need sewer replacement in Scottsdale. It's just one of those unfortunate facts of life. To help you decide when replacement is necessary, our professional plumbers have put together a list of the two most common reasons people cite for requiring replacement work. Those two common reasons to consider sewer replacement in Scottsdale is as follows:
Age: If your sewer line is more than around 50 years old, then it's high time to think about Scottsdale sewer replacement.
Cost: If you have to continually get sewer repair services, then it's likely more cost-effective to replace the line. That's right, under certain circumstances, sewer replacement is the more cost-effective option.
Contact Our Scottsdale Sewer Repair Specialists Today!
Here at Diamondback Plumbing Services, Inc., we pride ourselves on offering fast, reliable, and affordable Scottsdale sewer repair, replacement, cleaning, and inspection services. So, if you need help with your sewer line, what are you waiting for? Contact our team of sewer specialists to schedule an inspection or estimate for work today!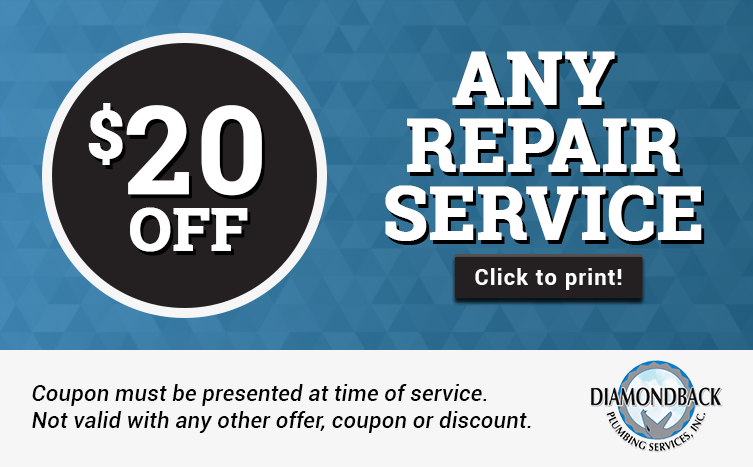 Quick Contact
Happy Customers
I'm selling a house and the buyer's inspection report noted a block sewer line.
Jason R., Scottsdale, AZ
Had a leak under the kitchen sink. Called at 11am and they were onsite at 1pm.
Jeff M., Phoenix, AZ
Owner Steve was quick to respond to my bid request on yelp, gave very competitive pricing and sent o…
K J., Phoenix, AZ
Love these guys!! Great techs and fair prices!
Karla W., Phoenix, AZ
The technician showed up and was able to get to work to find the issue in our front yard.
Jared H., Phoenix, AZ
Chris T at Diamondback installed our new water heater.
Lori H., Scottsdale, AZ
We have used these guys a couple times.
Kattie S., Scottsdale, AZ
We have used diamondback plumbing several times and each and every time their team impresses me!
Diana Z., Glendale, AZ
Ozzie arrived on time and replaced my aging water heater.
Phil H., Phoenix, AZ