Diamondback Plumbing is a full service mechanical and
Plumbing Contractor
providing quality services to
Residential and Commercial customers in Phoenix AZ and the surrounding region including the cities of Mesa, Chandler, Scottsdale, Tempe, Glendale and Sun City
. We carry out all work to the highest standards of workmanship at consistent and reasonable prices regardless of the day, night or after hours work involved.
Experienced HVAC & Plumbing Technicians
Our technicians are highly experienced and trained in all aspects of HVAC air conditioning, heating and plumbing work. All work is performed to the highest levels of workmanship and customer service. Our professionalism has become our signature trademark that of our many customers in the residential, retail, restaurant and business sectors have come to know well.
Heating & Air Conditioning Services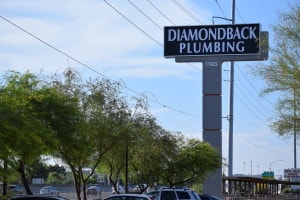 We offer an extensive array of HVAC services. Whether you need air conditioning repair, air conditioning installation or heating services we give you superior value for the price. Some of our residential HVAC services include A/C, heat pumps, furnaces, thermostats, upgrades and maintenance work.
Plumbing Services
We provide a host of plumbing services to meet every plumbing need in your home or business. Some of these include sinks & faucets, toilets, garbage disposals, septic services, leak detection and many more.
24/7 Emergency Plumber
If you need same day plumber service we are here to help. We respond to emergency calls and get your plumbing problems fixed quickly.
Other Mechanical & Plumber Services
We also provide drain & sewer cleaning for all our customers and commercial refrigeration for businesses in the food service and restaurant industry.
Contact Diamondback Plumbing & Mechanical
Call us today to schedule a service appointment or simply fill out our convenient online service request form.
 

MECHANICAL

Phoenix

Sottsdale/PV

Greater NorthWest

Valley Wide
East Valley
West Valley
(602) 393-3637
(480) 268-9997
(623) 236-3354
LIC # 251833 K – 39
 

PLUMBING

Phoenix

Sottsdale/PV

Greater NorthWest

Valley Wide
East Valley
West Valley
(602) 674-3255
(480) 970-0756
(623) 780-3224
LIC # 140167 K-37 LIC # 247310 A-12
LIC # 251833 K-39