Temperature generally isn't a factor in the performance of your tankless water heater. However, there's always a chance that the harsh cold will freeze exterior pipes.
A tankless water heater can function well despite the weather outside, even during harsh winter months. This high performance is partially due to the fact that tankless water heaters use a condenser mechanism that helps to warm the water as it passes through the unit. This way, the water is always warm when you decide to use the water heater.
New tankless water heaters function under lower pressure conditions. However, lower winter temperatures force your system to work harder to overcome the water's colder temperature. This extra work often leads to pressure issues either from the components working harder or sediment buildup.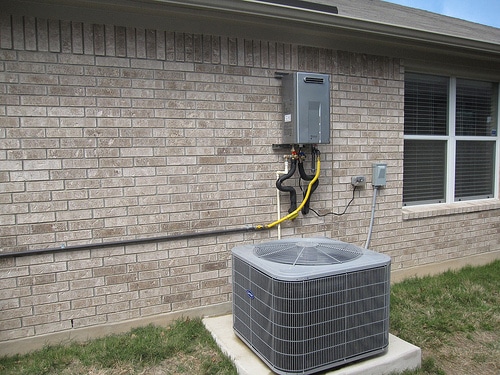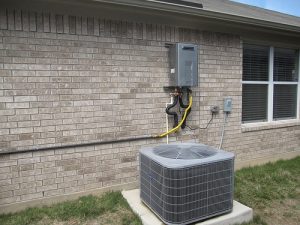 How Do Tankless Water Heaters Handle The Cold
Tankless water heaters come in both indoor and outdoor versions. These versions have a built-in feature of freeze protection that protects the water inside the tankless water heaters from freezing. Usually, this protects against temperatures in the range of about -22 degrees Celsius to -30 degrees Celsius. However, your system's protection system can deteriorate over time if it constantly fights over against these temperatures.
How To Winterize Your Water Heater
Winterizing is a process used to ensure that your tankless water heater doesn't freeze up during the winter months. To carry out this procedure, ensure that you have turned off the unit and have stopped the electrical supply. You should also unplug the unit from its power source to prevent electricity from flowing through the system anymore.
Drain the Heater
To drain the heater, you need to cut the water supply to your tankless water heater. You should also drain all the water remaining in your tankless water heater. After this, slowly reduce the water pressure going into your tankless water heater. This decrease will allow you to remove the water pipes connecting the water heater to your supply. Get a plastic cover and seal the vent termination and the exhaust exit to keep any debris out.
Adding Dual Venting
Dual venting is a method of dealing with drain pipe runoff in a way that prevents it from freezing in the cold. Generally speaking, this means repositioning your drain pipes somewhere they won't be subject to outdoor temperatures. After repositioning the lines, you should be allowing a thin stream of water to run through all the time, as running water resists freezing better.
Who Should Winterize?
All these methods and procedures fulfill one aim – preventing tankless water heater lines from freezing. These methods help many people with outdoor water tanks feel safe and protected during winter. However, these methods are not necessary if you are just expecting a few mildly cold days. Only those people expecting prolonged periods of freezing temperatures need to winterize their systems.
Let Diamondback Plumbing Help You Winterize
If you have any doubts or will like to get professional help from a local plumber in winterizing your water heater, feel free to call up the professionals at Diamondback Plumbing. We understand how frustrating such issues can get, especially for a first-time homeowner, so we're always ready to help you with your plumbing issues. We have experience in all plumbing and HVAC issues, and we charge affordable rates. This way, it is easier to build effective, long-term relationships with our customers! Try us to see the difference today.