We have a well known reputation as the professional plumber and have had great success due to our return customers that keep using and coming back to Diamondback Plumbing and Cooling. They know they can trust us due to having a solid reputation and a well known name in the plumbing industry serving Phoenix for over 20 years.
Commercial Leak Repair
If you have noticed a leak in the sink of your commercial property, immediate repair is necessary. Quick leak detection and repair can help reduce the damages that a leaky pipe can cause. If you think you have a possible leak issue, the unexpected increase in your water bills will confirm your speculation.
Contact us now to stop the problem from worsening. Our team of well-trained plumbers will inspect your pipes and repair the leak to prevent them from causing worse problems. Our plumbers can also do routine maintenance to keep your plumbing system at its best.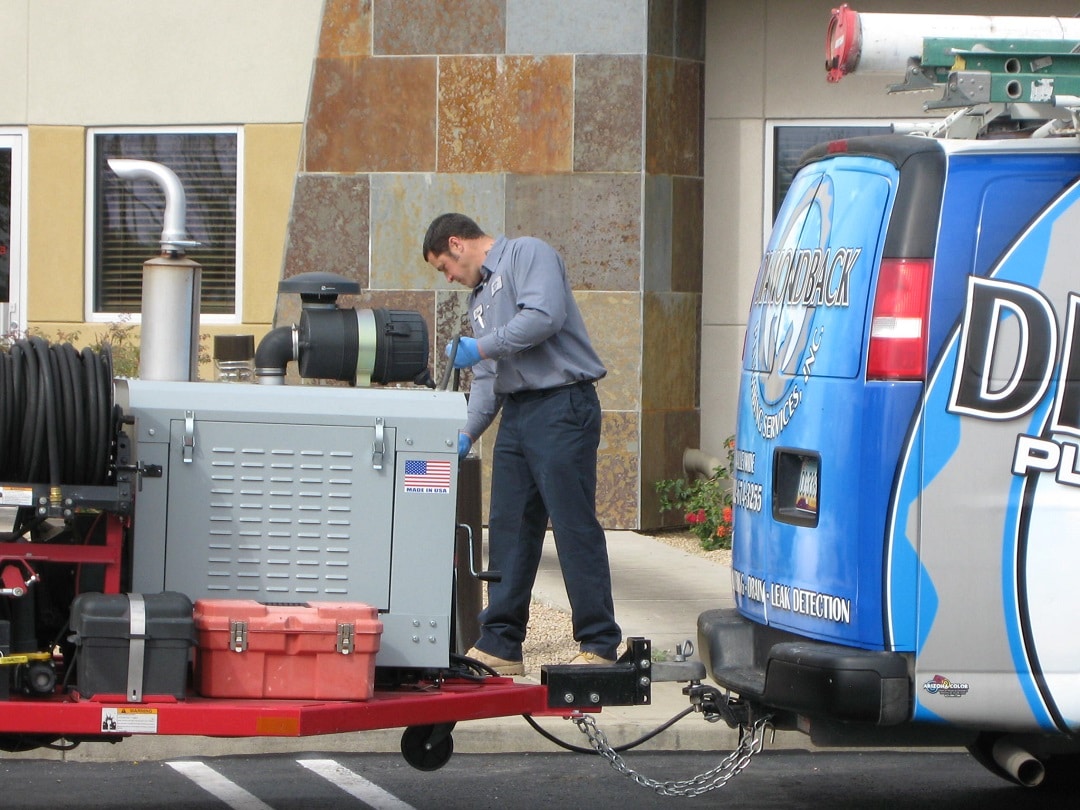 Commercial Clogged Sink Drains
From the kitchen to the bathroom, a clogged sink or drain can leave annoying residues behind and cause other problems. Our clogged sink drain cleaning services will be the best solution for your problem. You can rely on us for quick service and great results. We guarantee our workmanship and accommodate your preferred schedule. FLOOR SINKS / FLOOR DRAINS NO PROBLEM we have the correct sized drain cleaning equipment for all size drains on each truck
You must contact us as soon as possible when you notice any of these signs in your commercial sink:
The water starts to back up outside of your sink drain.
The water is draining slowly after it forms a pool.
You find pools of water all over the shower drains.
You see bubbles on the toilet water when the sink runs.
Water pools form on the ground near the sink or bathtub.
A smell of decomposing food that comes from your kitchen sink.
Using a flange plunger for your toilet is ideal. But, you must avoid using chemical drain cleaners at all cost as they contain harsh ingredients that can cause rust to your pipe.
Installation of New Commercial Sinks
Your sink is one of the most important plumbing fixtures in your business. It has moving parts that can wear out in the long run. If your commercial building has a leaky sink, you can contact Diamondback Plumbing and Cooling and entrust the job to us. Our team can help provide you some of the best choices and options that fit your needs when it comes to new commercial sink installation. Our vehicles are fully equipped with a full array of commercial materials to support your facility.
Replacement of Sinks and Drains
Commercial sink repair is often enough when addressing simple to complex sink issues. Our team will finish the job to make your sink as good as new. However, when repair is impossible, you have no other choice but to consider commercial sink replacement.
When the sink cracks or begins to leak, replacement is more likely necessary. It is where our experts come in. Our team of plumbers will evaluate the situation in a timely way to correctly identify whether repair is still possible or not. Once done, they will tell you about what to do next, and the pricing.
Our plumbers will provide you with an explanation about the issue, its causes, and how you can prevent it from recurring. They will come to your commercial building with a service vehicle that carries stock items and replacement parts. No job is too small or big for us, and we aim to satisfy our commercial customers. Our plumbers will diagnose the drain or sink issues and recommend a cost-effective solution.

We assure you that our team can meet and surpass your expectations. Our team can install various kinds of commercial sinks like bathroom sinks, kitchen sinks, or other plumbing fixtures. Diamondback Plumbing and Cooling is the right service to call for all your needs, whether you need aid or simply an upgrade.
Get in touch with Diamondback Plumbing and Cooling today in Phoenix by calling (602) 674-3255.