We strive for excellence and do the very best to make sure our customers are 100% satisfied. Our licensed and insured plumbing technicians work hard to get the job done right the first time. We have been providing service in the commercial & residential sector for over 20 years with a well-known reputation for excellent service and competitive pricing. All the work completed by Diamondback Plumbing and Cooling is per UPC/IRC Code.
Your Go-To Phoenix Drain Cleaning Company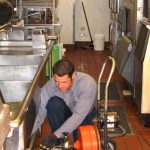 We carry three different drain and sewer cleaning machines on every service vehicle for any size clog. Most drains are cleared within an hour with no trip or service charges. Our Phoenix drain cleaning company also has a fleet of fully stocked vehicles containing plumbing repair parts, fixtures, and drain cleaning equipment capable of clearing any size drain line, along with a trailer mount hydro jetting machine to flush a complete system. There is no job too big or small for our experienced technicians.
Rooter Service in Phoenix for those Tough Tub and Shower Clogs
The infamous tub or shower clog is a standard drain stoppage that usually occurs when soap and hair combine to coat the inner walls of your drain pipes. Buildup areas typically occur in the wall or under-slab piping. Often, this is due to the smaller size piping for these fixtures. A ¼ inch Phoenix drain cleaning cable is used to navigate passed the many turns quickly and under-slab p-traps to reach the clogged sections of the drain. The technician will then run the cable a 2nd time with water flow to better ensure a clean flowing drain.
Kitchen Sink Clog Got You Down? Contact Us for Professional Drain Cleaning in Phoenix!
Reliable Hydro-Jetting and Phoenix Rooter Service for Mainline Clogs and Obstructions
The mainline clog is the most challenging and hazardous of all the drain stoppages. A mainline clog can cause an extreme amount of water sewage damage if not tended to, especially if the water is running into the drainage system and can't shut off. For mainline clogs, our drainage professionals will often recommend either hydro-jetting or Phoenix rooter service.
When you require rooter service in Phoenix, our machine carries a large ¾ diameter cable to clear through the clog or obstruction. The mainline rooter tool is run from either a drain cleanout access hole or through your roof vent. However, there are additional costs if a technician needs to access the mainline from the roof. Fortunately, most homes built after 1978 have ground-level sewer cleanouts.
Why Trust Our Phoenix Drain Cleaning Professionals?
In addition to our clogged drain cleaning services, we also specialize in several other areas of plumbing services. From drain repair, hydro jetting, rooter services and sewer cleaning to sewer repair, and more, we have you covered. We're one of the only local commercial plumbing companies in Phoenix that can handle any size problem with our tools and vehicles.
Worried about having to call a plumber after hours or on a weekend or holiday? It is not a problem and Diamondback Plumbing and Cooling. never charges after hours, trip or service fees and our prices remain the same regardless of the day, nights or weekends.* If you need a drain cleaning service in the Phoenix valley, commercial, or residential, feel free to
contact us
today!