We have built a solid reputation providing all of our customers with the best possible sewer services at competitive prices. We built this reputation over 20 years of customers having a great experience with Diamondback Plumbing and Cooling. They keep coming back for any plumbing needs and concerns they have. We specialize in different plumbing services, including sewer line repair and installation. Our technicians have experience dealing with sewer line problems in various situations like under concrete, landscaped yards, and housing structures.
No plumbing job is too small or big for our licensed technicians. So, what are you waiting for?
Contact us
to schedule Phoenix sewer repair, replacement, inspection, or cleaning services today!
The First Step is Always a Phoenix Sewer Inspection
Before we repair, clean, or replace any section of your sewer line, our professional plumbers will first need to perform a thorough Phoenix sewer camera inspection. During the inspection, our plumbers get an inside view of your entire sewer system using a CCTV camera attached to a drain snake. After the inspection, our plumbers can pinpoint your sewer problem and get to work on the repairs. Without a Phoenix sewer inspection, however, our team of plumbing professionals would have to tear up your yard just to get a glimpse at what might be causing your trouble. A CCTV inspection saves everyone time and money.
When is it Time for Sewer Repair in Phoenix, AZ?

Phoenix Sewer Repair Services Solve Several Different Problems
We offer different sewer services like main sewer line repair, replacement, and cleaning to fix these problems:
Our technicians are experts in using advanced plumbing technologies and equipment. Also, we are real experts in sewer line repair and Phoenix sewer replacement.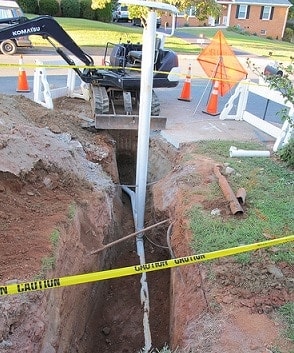 Reliable Sewer Cleaning in Phoenix
Clogged sewer drains will trigger serious issues in your home. Food particles, hair, and other substances may cause clogging of your pipes, preventing the dirt and water from passing through. If there's a clog in the drain, the wastewater will remain stagnant in your drain pipes, which will not only cause a nasty smell in your home, but it can also severely damage the pipes.
If you suspect clogging in your sewer drain, you should stop using your plumbing system and call us for sewer cleaning in Phoenix. Do not use your washing machine or flush your toilet. Also, do not attempt fixing the problem on your own as it can only worsen the issue. Instead, search for an expert in sewer line cleaning as the process may involve the following:
Traditional Sewer Line Repair
Sewer line repair is often carried out using the "trench" or "open cut" method. By using this method, plumbers will get access to the region surrounding the damaged part of your pipe. Our team will use a backhoe to open and refill the work zone.
Trenchless Sewer Line Repair
Sewer line repair or replacement does not mean we need to destroy your yard, driveway, or parking space. Our licensed technicians use the trenchless sewer line repair method because it leaves less damage compared to traditional sewer line repair methods. Trenchless sewer line repair is the next step in excellent sewer maintenance with less impact on the environment.
Pipe Relining
Our team will fix the broken sewer pipes by forming a "pipe inside a pipe" to restore your system's flow and function. The epoxy relining substances applied in the pipes will form a smooth new interior wall. Pipe relining will fix root-damaged pipes, holes, and seal cracks. Relining is also suitable for repairing mislaid seal joint and pipe connections in roof gutter pipes, storm lines, and beneath the concrete. The relined pipe is sturdy and seamless, and our team makes it more efficient by using non-hazardous materials in pipe relining.

Contact Us Today!
To get any of our Phoenix sewer repair services, contact us or book online using our quick service request form. Our certified technicians are ready to serve you at any time as we offer emergency 24-hour service in Phoenix, Scottsdale, and other nearby areas. Our team members are on-call and available to work even on holidays and weekends.
Diamondback Plumbing and Cooling is one of the top leaders in providing quality commercial and residential plumbing services. Get in touch with us today for immediate assistance. You can also send us a message to get a free estimate. All our work is always completed per UPC/IRC Code for residential plumbing.