When you're searching for Mesa plumbers, don't look any further than Diamondback Plumbing. We make it easy to have an emergency plumber come to your home, and we can help with anything from toilet repair to water heater repair in Mesa. Each Mesa plumbing job that we take is important to us, so we use parts that we know will last for a long time. Plumbing in Mesa is what we're passionate about doing. We aim to exceed our customers' expectations with everything we do. Moreover, we've earned countless 5-star reviews and even an A+ rating from the Better Business Bureau for our esteemed plumbing services.
Having a 24 hour plumber come to your home or office could reduce the level of damage caused to your property. Our Mesa plumbing company is ready to help with repiping, toilet repairs, kitchen and bathroom remodeling, drain cleaning, sewer camera inspections, leak detection, sewer repairs, and water filtration system work. Using a Mesa plumbing contractor or an emergency plumber could greatly reduce your level of stress when you're dealing with a problem.
Our Professionally Trained Mesa Plumbing Contractors
If you're considering your options for Mesa plumbing contractors, we want to be the team you turn to. Each of our emergency plumbers receives ongoing training so that they can help with anything from hydro-jetting to slab leak repair in Mesa. Whether you need a 24 hour plumber to address a problem immediately or want to protect your home by getting a Mesa leak detection done, you can count on our plumbers to work meticulously from start to finish.
Our Mesa plumbing company is committed to offering comprehensive services. We can assist you with a Mesa kitchen and bathroom remodeling job or help with something as small as a faucet repair, toilet repair, or garbage disposal repair. We understand the stresses that a clogged drain can cause, so we'll work efficiently and get jobs done as soon as possible. We're tidy and neat, and we'll make sure that our work area is cleaned up completely when we're finished with a job.
Mesa Plumbing – Diamondback Plumbing Inc.
Preventative Maintenance Programs
Comprehensive Septic Service
Faucets, Tub, And Shower Repairs and Replacement
Sewer Drain Cleaning & Hydro jetting
Kitchen & Laundry Drain Cleaning
All Water leaks Line Repairs and Replacement
Main Sewer Lines Repaired and Replaced
Leak Detection & Line locating Service
Sewer Video Camera Detection
Backflow Certification & Installation & Repairs
Pressure Regulator Valve (PRV) Inspections
Bathtubs & Showers Installations and Repairs
Garbage Disposals
Instant Hot's
All Water Heaters – Gas & Electric & Tankless
Hydro Jetting Hydro Flush & Drain scour cleaning
Commercial & Industrial
Restaurant Plumbing & Drain Cleaning
Sewer Line & Lateral Line Drain Cleaning
Hydro Jetting Sanitary & Grease Lines
Parking area Retention Drain cleaning
Energy Saving Tankless Water Heaters Video Inspection Services
Lift Stations & Drywell & Catch Basins
Exceptional Mesa Drain Cleaning Services
Diamondback Plumbing is prepared to help with any Mesa drain cleaning job. A clogged drain or a clogged sink can be an annoyance if it's draining slowly or dangerous if backed up completely. We offer a wide variety of rooter service options so that your pipes can start functioning properly again.
Chemicals that can be bought at a drug store aren't as effective as our Mesa hydro-jetting services. Trying to fix a clogged sink without professional help can create a recurring problem and introduce dangerous chemicals into your pipes. Our Mesa plumbing contractors will spray high-pressure water into your pipes that has enough force to clear out any blockages efficiently. By making sure that your pipes are completely clean, we can avoid future clogs from forming. Our Mesa drain cleaning company charges reasonable prices for our rooter service choices.
Preventative Mesa Leak Detection and Repair
Having regular Mesa leak detection work done could keep the foundation of your property protected from the elements. Slab leaks occur when cracks form because there's too much moisture next to your home. This could be caused by soil with poor drainage or a gutter system that isn't working effectively. A Mesa plumber can go over your entire property and determine if there are any issues. We'll show you any cracks that we find and explain the different ways that you could address them. We can perform any slab leak repair in Mesa properly.
Our Mesa plumbing services are designed to help you save money. Getting a slab leak repair in Mesa done before the crack has a chance to grow could save you a lot of time and hassle by preventing water from entering your home and causing damage. A cracked foundation could hurt your entire home, so it's critical to address issues promptly.
Using Our Mesa Sewer Services
Since most of your pipes are hidden behind walls, it's important to have a Mesa sewer camera inspection performed to ensure that there isn't any hidden damage that you can't see. Catching small cracks or blockages early could help you avoid a major problem in the future. We offer affordably priced Mesa sewer repair services and make it easy to use our services. We'll provide you with a detailed and accurate estimate for any job before we get started.
Diamondback Plumbing is committed to helping with plumbing in Mesa. We'll perform a Mesa sewer camera inspection efficiently and explain any issues that we find. You'll have all of the information you need to decide how to move forward with a Mesa sewer repair. Our Mesa communicates openly and honestly, and we'll always have your best interests in mind. We'll never try to sell you anything that you don't need, and we want our services to be a great value for the price.
The Benefits of Mesa Water Filtration Services
There are many different types of Mesa water filtration systems to choose from. Whether you have a job involving water softener installation in Mesa or want something to protect you from harmful contaminants, we'll explain your different options. Our Mesa plumbers will perform the water softener installation in Mesa correctly the first time and show you how to maintain your system properly.
Many people could benefit from a Mesa water filtration system. Whether you're starting a kitchen and bathroom remodeling job and want to upgrade your entire water system or are curious about the benefits of softer water in your daily life, we're ready to meet with you. Hard water can deposit minerals into pipes, cause dishes not to get as clean, and make it so that soap doesn't create suds. Our plumbers in Mesa, CA, will answer any of your questions and help you choose your space's proper system.
Mesa Water Heater Services
Our team is highly experienced with many different types of Mesa water heaters. Whether you want us to install new Mesa tankless water heaters or perform a water heater repair on your existing unit, we'll take care of each step of the process. Any waste will be disposed of properly, and we'll keep all of your property protected while we're there. Our technicians can put on booties so that they don't track any dirt onto your floors.
To make it easy to have a water heater repair in Mesa done by a professional, we're flexible with our appointment scheduling. Our plumbers in Mesa, CA, are committed to being punctual to their appointments, and they'll have everything they need to work on Mesa tankless water heaters. We take pride in our water heater repair services. We want our customers to have an outstanding experience when having a Mesa plumber in their homes. We believe everyone should have all of the hot water they want.
Hire a Mesa Plumber Today
We'll be professional and efficient, from performing a faucet repair to taking on a complex Mesa hydro-jetting job. We can stress dealing with Mesa water heaters and perform any Mesa drain cleaning job you have for us. Our goal is to take the hassle out of dealing with any issue by taking care of all small details. We offer personalized services to our customers and pledge to communicate understandably. You'll be treated respectfully by all members of our team.
Hiring a 24 hour plumber from our company could let you resolve a problem as soon as possible. Our Mesa drain cleaning company places customer satisfaction as our top priority. We strive to build lasting relationships with those we serve. Our plumbers in Mesa, CA, receive ongoing training to ensure they know how to address any problem they encounter at their job sites. Contact Diamondback Plumbing today to find out more about our various Mesa plumbing services and set up an appointment to get your issue fixed today.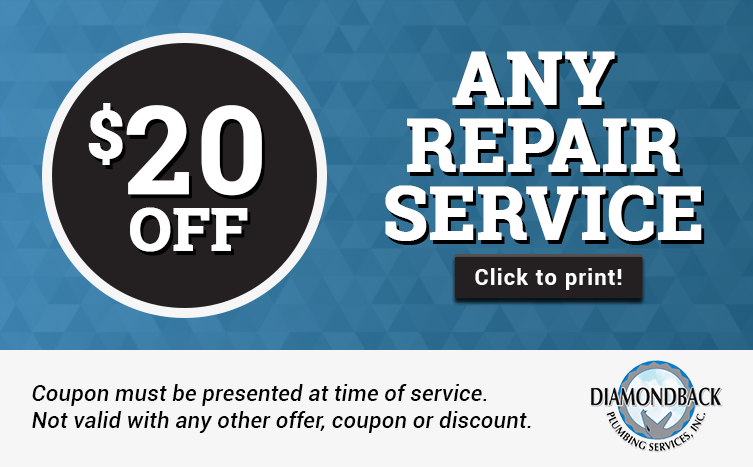 Quick Contact
Happy Customers
I'm selling a house and the buyer's inspection report noted a block sewer line.
Jason R., Scottsdale, AZ
Had a leak under the kitchen sink. Called at 11am and they were onsite at 1pm.
Jeff M., Phoenix, AZ
Owner Steve was quick to respond to my bid request on yelp, gave very competitive pricing and sent o…
K J., Phoenix, AZ
Love these guys!! Great techs and fair prices!
Karla W., Phoenix, AZ
The technician showed up and was able to get to work to find the issue in our front yard.
Jared H., Phoenix, AZ
Chris T at Diamondback installed our new water heater.
Lori H., Scottsdale, AZ
We have used these guys a couple times.
Kattie S., Scottsdale, AZ
We have used diamondback plumbing several times and each and every time their team impresses me!
Diana Z., Glendale, AZ
Ozzie arrived on time and replaced my aging water heater.
Phil H., Phoenix, AZ