Plumbing Services in Mesa Arizona

24-Hour Mesa Plumber
For over 20 years, Diamondback Plumbing has been the local leading plumbing service company that has established themselves as the most trusted plumber in Mesa, Arizona.
Mesa is the third largest city in Arizona and is located about 20 miles east of Phoenix. The population of Mesa is approximately a little over 500,000 people and is a city that offers a wide variety of educational opportunities and artistic venues. There are also so many fun things to do including; golfing, sports, outdoor activities and has almost 3000 acres of parkland within the city limits. Family activities in Mesa are plentiful with the popular Arizona Museum of Natural History, Air Force commemorative and the unique I.D.E.A museum there is never a shortage of fun for the entire family.
The Mesa economy is thriving and is host to a large number of employers including; Boeing, Banner Health Hospitals, Walmart and Fry's Food and Drug stores. The diverse population also makes the city a "melting pot" and is culturally diverse with Special Olympics and so many opportunities to raise a family or find employment. The average median price of a home in Mesa, AZ is approximately $200,000 and rentals are roughly renting for $130 a sqft. The city has some great dining and shopping and is connected to the Valley Metro Rail so people can travel around the city with ease.
When Diamondback Plumbing arrives to your home as your local plumber in Mesa, you can expect a courteous and professional technician that is licensed, bonded and insured for your peace of mind. Be very careful on whom you let you work on your home or business and make sure they have insurance just incase something goes wrong and so you won't be left with the bill of a potential costly repair mistake. Our reputation in Mesa, Arizona is well known for value to service and why so much of our competitors charge such a high flat price even for the simplest of repairs. Diamondback Plumbing does not price like this and never will, "always get an estimate from Diamondback Plumbing."
Mesa Plumbing – Diamondback Plumbing Inc.
Preventative Maintenance Programs
Comprehensive Septic Service

Faucets & Toilets & Tub Shower Repairs and Replacement
Sewer Drain Cleaning & Hydro jetting
Kitchen & Laundry Drain Cleaning
All Water leaks Line Repairs and Replacement
Main Sewer Lines Repaired and Replaced
Leak Detection & Line locating Service
Sewer Video Camera Detection
Backflow Certification & Installation & Repairs
Pressure Regulator Valve (PRV) Inspections
Bathtubs & Showers Installations and Repairs
Garbage Disposals
Instant Hot's
All Water Heaters & Gas & Electric & Tankless
Hydro Jetting & Hydro Flush & Drain scour cleaning
Commercial & Industrial
Restaurant Plumbing & Drain Cleaning
Sewer Line & Lateral Line Drain Cleaning
Hydro Jetting Sanitary & Grease Lines
Parking area Retention Drain cleaning
Energy Saving Tankless Water Heaters Video Inspection Services
Lift Stations & Drywell & Catch Basins
Expert Mesa Plumbing Professionals
The team at Diamondback Plumbing is available available 24/7 and will fix and stop costly leaks fast and have a team of professional plumbers always ready for dispatch anywhere in the Mesa area.  As a family owned and operated business, we know what it is like to go without water or sewage for a short or long period of time and never take advantage of these emergencies by taking advantage of customers and we are proud to offer the same pricing 365 days a year*.

Call Today
Feel free to schedule an appointment with one of our Mesa plumbers and have the job done right the first time. We are available 24/7 – Diamondback plumbing is your one stop shop for all your plumbing needs serving Mesa since 1997 with no trip, service or extra charges for nights and weekends.
Call our expert Mesa plumbers at (602) 674-3255 today for a free estimate today!
References:
https://en.wikipedia.org/wiki/Mesa,_Arizona
www.trulia.com/real_estate/Mesa-Arizona/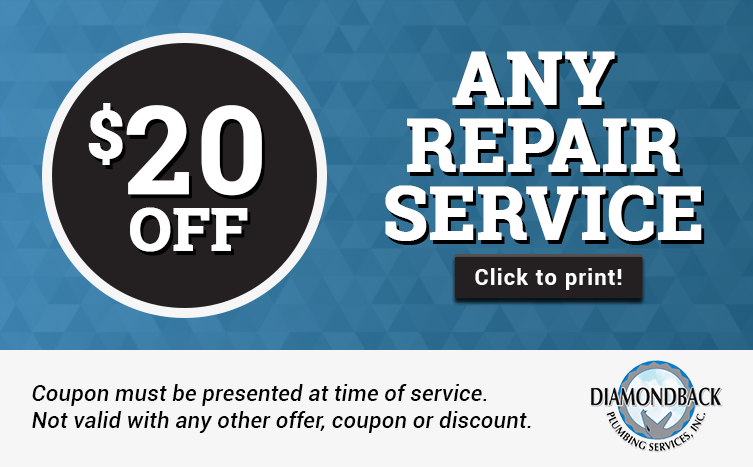 Quick Contact
Happy Customers
I'm selling a house and the buyer's inspection report noted a block sewer line.
Jason R., Scottsdale, AZ
Had a leak under the kitchen sink. Called at 11am and they were onsite at 1pm.
Jeff M., Phoenix, AZ
Owner Steve was quick to respond to my bid request on yelp, gave very competitive pricing and sent o…
K J., Phoenix, AZ
Love these guys!! Great techs and fair prices!
Karla W., Phoenix, AZ
The technician showed up and was able to get to work to find the issue in our front yard.
Jared H., Phoenix, AZ
Chris T at Diamondback installed our new water heater.
Lori H., Scottsdale, AZ
We have used these guys a couple times.
Kattie S., Scottsdale, AZ
We have used diamondback plumbing several times and each and every time their team impresses me!
Diana Z., Glendale, AZ
Ozzie arrived on time and replaced my aging water heater.
Phil H., Phoenix, AZ