For over 20 years, Diamondback Plumbing and Cooling has been the local leading plumbing service company that has established themselves as the most trusted plumber in Phoenix. We are well known for providing our residential and commercial customers great service and reasonable pricing.
Leak Repair
Diamondback Plumbing and Cooling can solve all types of commercial bathroom problems, including leaks and clogs. If your problem is a leak from the flush valve of the toilet, you can rely on our commercial plumbing expert to fix it for you. Our commercial plumbers can help repair your toilet using high-quality parts and materials.
We'll quickly identify the cause of the leaks and repair it right away. By using the best quality products, we can assure you that you won't experience the same issues anytime soon. All you need to do is contact our office and we'll have a professional plumber check everything for you.
Clogs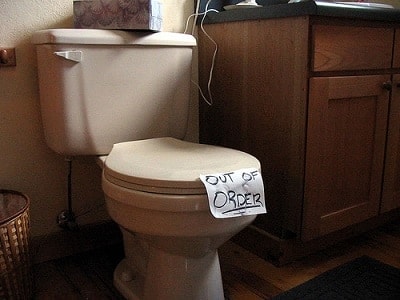 Is the toilet in your business not flushing well? It might be because of a clog or because the system is not pushing adequate water thru the bowl, which Diamondback Plumbing and Cooling can quickly repair. Our plumbers can get to the root of the issue and quickly get your toilet(s) running well again.
Diamondback Plumbing and Cooling offers clogged toilet repair services aimed to clear any commercial toilet of any clog. We will restore your toilet's full drainage and ensure that it is functioning efficiently again. In addition to clogged and leaking toilets, we can also repair more uncommon commercial toilet problems.
Installation
If you need a new toilet installed, Diamondback Plumbing and Cooling can also offer you our expert service. No matter the type of toilet you want to be installed in your business, you can trust our professionals to properly take care of it.
If you are ready to update your toilet with a new one, all you need is to contact us. Many systems currently have been upgraded to automatic eye sensor systems that do not require manual flush – We'll update your bathroom by transforming its layout, style, and functionality. After our installation service, you can have a bathroom with a whole new look and feel.
We will take care of replacing your toilet, making sure that installation is done efficiently and properly.
Why Diamondback Plumbing and Cooling
Diamondback Plumbing and Cooling is considered one of the topcommercial professional plumbing experts in Phoenix, Arizona for over 22 years we have been serving some of the largest retail and franchise chains (referrals given upon request). Whether you need commercial bathroom repairs, replacement, or upgrade of your existing bathroom fixtures, our plumbing experts can help determine the best solutions for your toilet problems.
Experienced Technicians
Our technicians are highly trained and experienced in commercial plumbing work. Rest assured we perform all commercial toilet repairs at the highest standards of workmanship and customer service. Moreover, only licensed and certified plumbers work on every plumbing service you need.
Affordable Pricing
If you need assistance to repair your commercial toilet, our experts are here to help. We are available 24/7 and we respond quickly to emergency calls. Whenever you need us, we are ready to fix your toilet efficiently and quickly at an affordable price.

Guaranteed Customer Satisfaction
Diamondback Plumbing and Cooling has been fixing commercial bathroom plumbing issues in Phoenix for many years now. We pride ourselves on our strong reputation for delivering high-quality 24/7 plumbing service in the community. When you need help, give us a call and you'll find out why our loyal customers keep coming back.
Provides Other Plumbing Services
We are dedicated to fixing all of your commercial bathroom plumbing needs and helping restore your fixtures to their original working condition. In addition to commercial plumbing, we also provide sewer and drain cleaning services for all our customers. We provide the highest-level of customer service and satisfaction.
Feel free to let our staff know if you have any questions or feedback. Call us at (602) 674-3255 to schedule your appointment.