Diamondback Plumbing has been serving homeowners and businesses in the Chandler community for over 20 years and has built a reputation of excellence in the business community for companies and industrial complexes such as: Olive Garden, Wal-Mart  and Kohl's to name a few.
When Diamondback Plumbing arrives to your home or business as your plumber in Arizona, you can expect a courteous and professional technician that is licensed, bonded and insured. Our reputation is well known for value to service.
Chandler is a popular city in Arizona with a population around 300,000 and is host to large thriving employers like Intel that has played an important role in the local economy. It is also hosts a variety of local entertainment venues and parties such as the annual Ostrich festival in March, Chihuahua races in the cinco de mayo festival and a downtown block party in November and much more fun activities for people to enjoy all year round. There is never a dull moment in Chandler and was even named a Playful USA City community by a national parks and recreation organization in 2016.
Chandler offers a wide variety of transportation options, great schools, community colleges with educational opportunities, artistic and cultural diverse geographic areas, special events, affordable housing and makes the city a perfect place to find gainful employment or to raise a family.
Plumbing problems arise at any time of day and what set's us apart from the other plumbing companies is that we never charge after hours, service or trip fees and our prices remain the same regardless of the day, nights or weekends*.
We are a family owned and operated, fully licensed and insured plumbing service that offers repair services for all of your commercial, residential and industrial plumbing needs.
Remember to "always get an estimate from Diamondback Plumbing" first. Diamondback Plumbing has given quotes to customers that have already signed up for plumbing services from other companies that would have saved business and homeowners thousands of dollars. We are proud to say that we provide honest, up front pricing and stand by our work 110% with a satisfaction guarantee.
Chandler Plumbing Service | Diamondback Plumbing Inc.
Faucets / Toilets / Tub Shower Repairs and Replacement

Sewer Drain Cleaning & Hydro jetting

Kitchen / Laundry Drain Cleaning

All Water leaks Line Repairs and Replacement

Main Sewer Lines Repaired and Replaced

Leak Detection / Line locating Service

Sewer Video Camera Detection

Backflow Certification / Installation / Repairs

Pressure Regulator Valve (PRV) Inspections

Bathtubs & Showers Installations and Repairs

Garbage Disposals

Instant Hot's

All Water Heaters / Gas / Electric & Tankless

Hydro Jetting / Hydro Flush / Drain scour cleaning

Commercial / Industrial

Restaurant Plumbing / Drain Cleaning

Sewer Line / Lateral Line Drain Cleaning

Hydro Jetting Sanitary / Grease Lines

Parking area Retention Drain cleaning

Energy Saving Tankless Water Heaters Video Inspection Services

Lift Stations / Drywell / Catch Basins

Preventative Maintenance Programs

Comprehensive Septic Service
Give Us a Call
Call and schedule an appointment with one of our Chandler plumbers today! We are Available 24/7 – Diamondback plumbing is your one stop shop for all your Chandler plumbing service needs serving Phoenix and surrounding areas since 1997 with no trip, service or extra charges for nights and weekends. Call (602) 674-3255 today for a estimate on your next plumbing project.

References:
https://en.wikipedia.org/wiki/Chandler,_Arizona
https://www.chandleraz.gov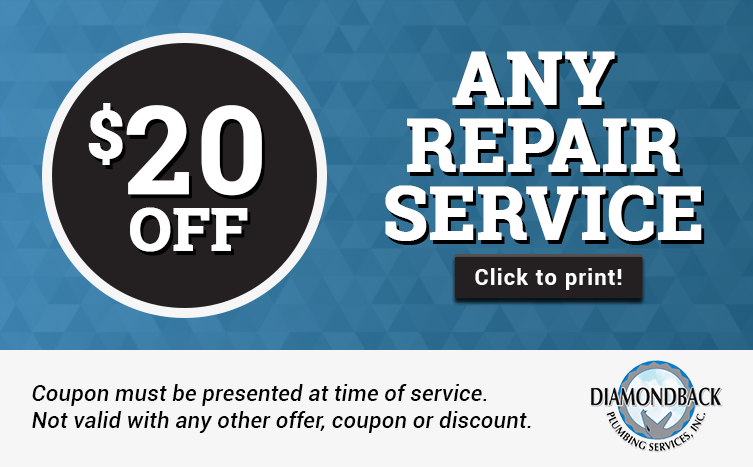 Quick Contact
Happy Customers
I'm selling a house and the buyer's inspection report noted a block sewer line.
Jason R., Scottsdale, AZ
Had a leak under the kitchen sink. Called at 11am and they were onsite at 1pm.
Jeff M., Phoenix, AZ
Owner Steve was quick to respond to my bid request on yelp, gave very competitive pricing and sent o…
K J., Phoenix, AZ
Love these guys!! Great techs and fair prices!
Karla W., Phoenix, AZ
The technician showed up and was able to get to work to find the issue in our front yard.
Jared H., Phoenix, AZ
Chris T at Diamondback installed our new water heater.
Lori H., Scottsdale, AZ
We have used these guys a couple times.
Kattie S., Scottsdale, AZ
We have used diamondback plumbing several times and each and every time their team impresses me!
Diana Z., Glendale, AZ
Ozzie arrived on time and replaced my aging water heater.
Phil H., Phoenix, AZ