Phoenix Bathroom Plumbing Repair & Installation
Are you having Phoenix bathroom plumbing problems? You can count on Diamondback plumbing to help you solve your bathroom plumbing needs. We understand how important the bathroom is in every home, especially that its plumbing works properly.
Whether you need to replace your shower fixture with a brand new shower head or you need to get your tub fixed, so it drains properly, you have reached the right plumbing company. Diamondback Plumbing takes pride in providing the highest standards of service to fix your Phoenix bathroom plumbing issues right the first time.
Diamondback Plumbing is a licensed plumber in Phoenix that has been serving the valley for over 20 years with a well-known reputation for excellent service and competitive pricing.

Trained Professionals
Diamondback Plumbing employs licensed, certified, and experienced technicians ready to solve your restroom issues. We can handle repair and installation, getting those fixtures working correctly. Rest assured our team can handle a wide array of issues including:
Cleaning your bathroom drains
Repairing your hot water heating
Installing plumbing fixtures
Unclogging the drains, sinks, and toilets
The Diamondback plumbing team is ready and available to help your home when you need bathroom plumbing repairs anytime in Phoenix. We can effectively put a stop to those costly leaks.
Our professional technicians are on standby and ready to handle your call 24 hours a day. Diamondback Plumbing is a family-owned and operated business proud to do business with you. Whether it is an emergency or regular request, we offer you a high standard of service at the same price.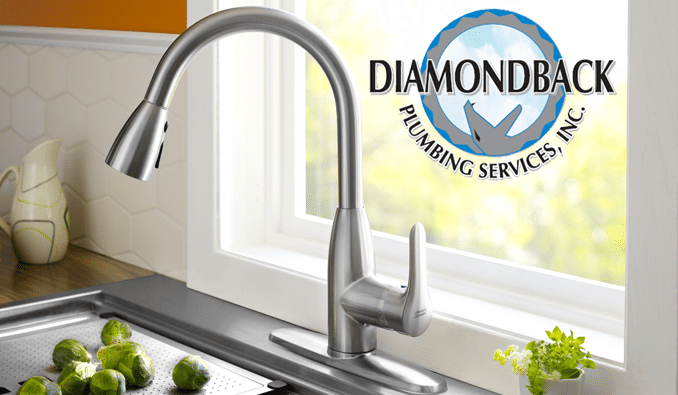 Faucet Repair
Diamondback Plumbing is composed of experts in repairing any bathroom faucet. We can fix your compression, ball, disk, or cartridge faucet and get it back to working correctly again. When we come to your house to repair your faucet, rest assured we have all the tools and necessary parts to fix it.
Besides repair, we can also replace your faucet if it is what you desire. We can provide and install your bathroom with a brand new faucet. If it is faucet repair or installation, trust Diamondback Plumbing to take care of it for you.
Toiler Repair/Installation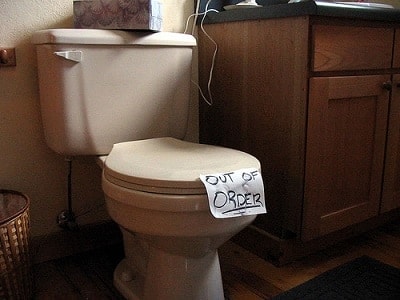 If you have a toilet leak or need a new toilet installed in your home, the Diamondback Plumbing technicians can help you. When you call us, we will ask you a few questions to determine what kind of problem you have to make sure when the technicians arrive, they will have all the proper equipment and parts that will be needed to fix your toilet. We have repaired thousands of toilets over the years, from toilet leaks to clogged toilets and clogged toilet sewer lines.
Clogged Toilet
Do you have problems with clogged toilets? If that's the case, our Phoenix bathroom plumbing service is just what you need. When toilet paper and other non-flushable items overwhelm it, it can lead to a clogged toilet, which is one of the most common bathroom plumbing problems. Sometimes using a plunger or drain cleaning chemical does not help with a clogged toilet, and this is when you need our team of plumbing experts. Our team of repair experts can quickly get your clogged toilet back up and running again.
If you are experiencing a clogged toilet, Diamondback Plumbing has the people, tools, and replacement parts to fix your toilet problems.
Shower Plumbing
Let our skilled shower plumbing experts offer you a broad range of shower repair solutions. Enjoy our timely, 24/7, friendly professionalism in delivering your expert shower plumbing services. Diamondback Plumbing can ensure your shower's plumbing is back to up and running in no time.
Aside from an on-time repair service, we can also provide you with a complete shower installation. If you are thinking of remodeling your bathroom, Diamondback Plumbing can help you with all the plumbing needs you may have. You can trust that Diamondback Plumbing has the expertise and knowledge to help you with any Phoenix bathroom plumbing needs you may have.
Why Diamondback Plumbing?
We are a leader in residential plumbing services in Phoenix, AZ, and surrounding areas. We are a family-owned and operated company dedicated to delivering professional service to all our customers.
Our main advantage and the most significant benefit we can offer you is the expertise of our technicians. Licensed, trained, insured, and experienced, they know what to do to fix your bathroom problems right away.
Diamondback Plumbing provides full-service bathroom plumbing solutions. We provide expert same-day repairs and installations of showers, tubs, toilets, sinks, and more. Call Diamondback today at (602) 674-3255 and experience why so many customers have chosen us to be their plumber of choice.
All the work completed by Diamondback Plumbing is per UPC/IRC Code for residential plumbing.