Leak Detection Services – Pipes, Slabs & Sewer Lines
Choosing Diamondback Plumbing for your plumbing needs is always a good decision. Our company offers a range of outstanding services, including pipe and slab leak detection. Our company has been an industry leader for over 20 years in the fields of leak detection for both hot/cold water line piping as well as drain sewer piping for inspection of your underslab drain waste piping.
Diamondback Plumbing has the experience along with the most state of the art equipment to ensure your leak is handled properly – too many companies are misleading their customers and confusing them. The main objective that Diamondback Plumbing focuses on is to complete these types of projects with the least amount of damage to the house or business. Diamondback Plumbing uses the process of Manifold detection which tells us which pipe the leak originates from and ends up feeding which allows the piping to be ran overhead thus eliminating the underslab piping all together. This process abandoned the entire leaking line instead of just repairing a small section that could leak a foot away a month or year later. Our field supervisors in most cases can give you a price on your project just by answering a couple simple questions. Call us 602-674-3255

Pipe Leak Detection
A leaking pipe is a common plumbing issue that can result in expensive water bills. The unused water is still a part of your overall water consumption. Therefore, you must be responsible and careful with the water you use.
There are only two ways that your household can waste water. First is when you are using water for showers, your dishes, washing machine, sinks, toilets, pool and water outside. Second, a damaged pipe can waste a lot of water and what's worse is that you are not usually aware of the pipe leak. Pipe leaks are not easy to detect, but our professional technicians are trained and can easily spot such issues.

DIY leak detection and repair is generally ineffective, time-consuming, and can be expensive. Why not search for professional help instead?
Pipe leaks can be extremely devastating to your home, as they are usually invisible behind the walls, underground or in the attic. The wasted water may run over your walls, floors, and damage the foundation of your house. Mildew and mold can accumulate, which may cause permanent damage to your property.
Therefore, you should always pay attention to your monthly water bills and water consumption. Furthermore, compare your recent water bill with the ones issued to you in the past. Ask for professional help now when you notice a sudden increase in the amount of your water consumption for the previous months. Check your walls including the drywall for visible signs of water and leak damage, like soft and moldy spots.
Slab Leak Detection
A slab leak is a common plumbing issue. At first, it is just a minor leak that may develop into a more complex issue if left unfixed. It can occur when the drainpipes of your water supply crack, break, or burst. You will detect the leak in the pipes that can bump into the concrete slab underneath your house.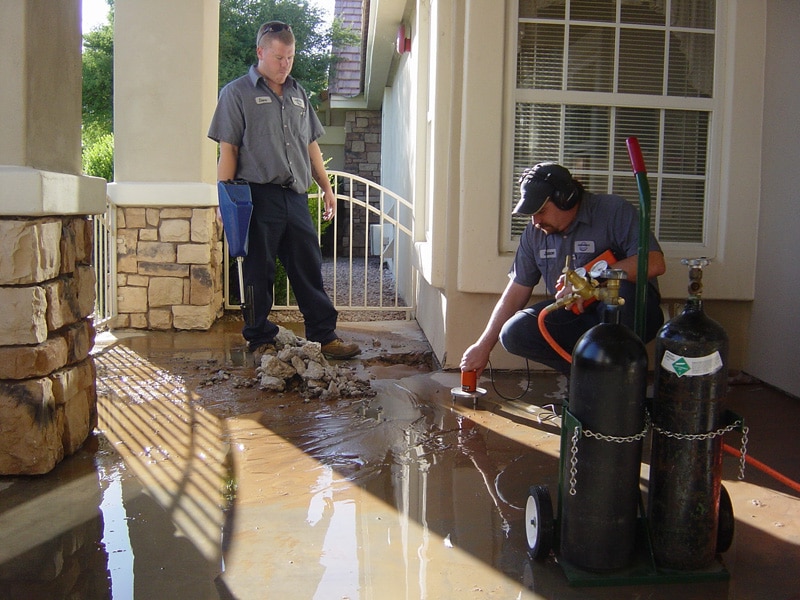 What are the Causes of a Slab Leak?
Pipe deterioration. Your pipes will deteriorate if they rub against the concrete or gravel, etc.
Increased water pressure
Pipe corrosion
Poor quality or incorrectly installed pipes
Settling or shifting slab that can damage your pipes
Also, watch out for the signs, and contact us right away for a quick fix:
You can hear flowing water even when the faucets are off.
The unexplainable continuous rotation of your water meter
Cracks in the flooring or walls
Visible moisture or mildew underneath your flooring or carpets
The unpleasant smell of your sewage which may indicate a problem in the drain or sewer line
A recent bug issue caused by ground moisture.
More expensive water bills
Slab leak detection is a complex process. With the modern tools and proper equipment, Diamondback Plumbing can detect and repair a slab leak for you. We guarantee that our repair process is effective in order to provide you with a positive outcome. Likewise, our well-trained technicians conduct the whole process in a safe and efficient way.
Prompt action is important the moment you see any sign of a pipe or slab leak. Leak detection is necessary when you spot signs like damp spots on the walls and floors. Contact us right away and obtain our pipe leak or slab leak detection services.

Get 24/7 Affordable Pipe Leak Detection Plumbing Services from Diamondback Plumbing!
Diamondback Plumbing provides quality services to commercial and residential customers. We guarantee a prompt response and excellent workmanship. We use industry best practices and follow all city codes when it comes to any plumbing work. We are committed to making sure you receive a positive experience when you are working with one of the Diamondback Plumbing technicians. We are the leading choice for most businesses and homeowners in Arizona when it comes to plumbing services and leak detection.
Diamondback Plumbing is ready to serve you even on weekends and holidays. Please do not hesitate to contact us to learn more about our leak detection services.