Do You Need an Affordable Local Plumber Near You?
Diamondback Plumbing has been serving Arizona for over 22 years and has a team of skilled and experienced plumbers who are trained to deal with various kinds of plumbing issues. The main reason for our longevity and success is return customers – we have built an outstanding reputation and have become well known in the valley of the sun and thru-out Arizona. Our customers have the comfort of knowing Diamondback Plumbing will back their work and have a solid name to back it. Whether it's something as simple as a clogged toilet or a major underground plumbing leak, you can trust us to do the job right the first time. We can also conduct an inspection of your system via leak locating and sewer camera equipment. Proper maintenance will allow you to detect problems and get them fixed before they become costly plumbing concerns. Call us and expect your plumbing to be repaired quickly and for a reasonable price.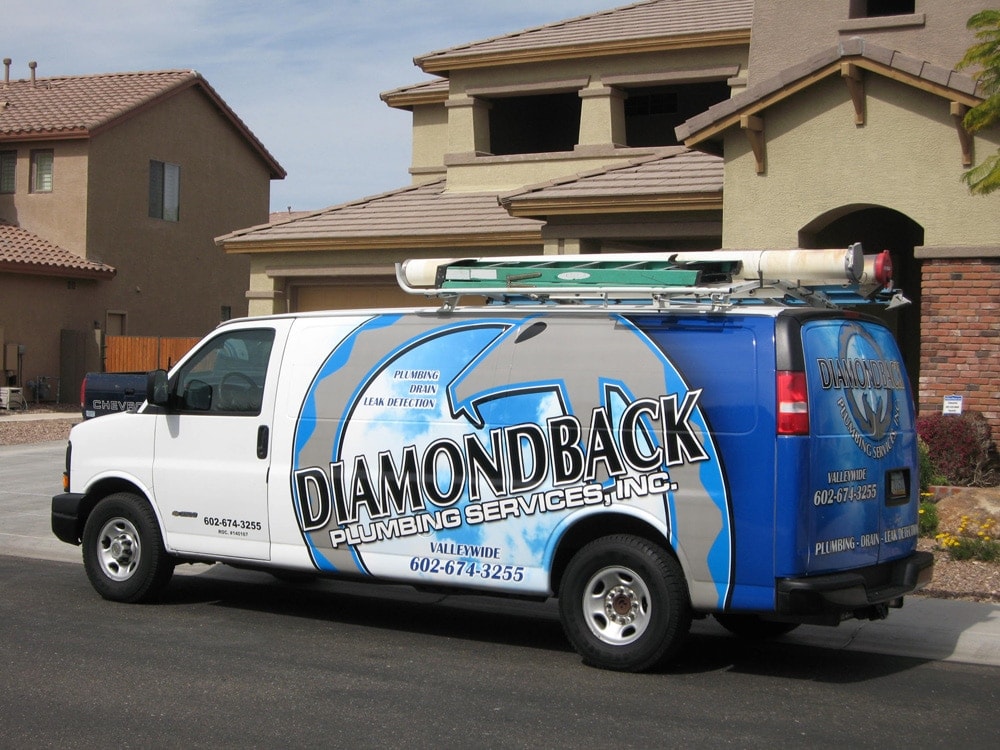 Common Plumbing Repairs
You can prevent plumbing emergencies by taking good care of your plumbing system. In many cases what seems like a small problem and put off can actually turn into a much larger problem later. Here are the most common plumbing issues that homeowners deal with.
Gas Leaks – Vacate your house when you smell gas. Don't try to deal with the problem on your own. We will do a quick visual check to locate and fix any visible problems immediately  – a leak that is not visible will require us to do a pressure air test on the gas piping system thru-out the residence.
Clogged Toilets and Drains – Do no use chemical to attempt to clear your drains- The wrong chemicals can damage the pipes. If the clog is backing up your tub or sink, you should call us right away as we will remove the obstruction properly and safely without costly damage to your pipes. Diamondback stocks multiple different size drain cleaning equipment for the different size drains right on their truck – using the wrong equipment will damage your piping.
Fixture Repair – We can fix malfunctioning fixtures such as toilets, faucets and showerheads. If the fixture is beyond repair, we will tell you right away and suggest a replacement.

Scale build up – piping and water heaters with scale deposits on the joints or pipes should be repiped and or replaced right away – typical life of a water heater in Arizona is 6-8 years.

Plumbing Leaks
We check the areas where leaks are spotted and track the potential source of the problem. After turning off the main source of water, we replace or fix what's broken and test it before leaving. We make sure to finish the job quickly, so we don't disrupt your normal routine. Read more on our plumbing leak services.
Pipe Installation
Pipe installation is a complex process. Whether you are replacing old pipes or installing new ones, you can trust our team to not only follow the proper city code, but to install the pipes efficiently. Diamondback Plumbing has decades of experience when it comes to repairing your pipes, replacing pipes and installing news pipes. Call us today to schedule your free estimate on pipe replacement or pipe installation for your home or commercial property.
Affordable Emergency Plumbing
We are available 24/7, so we can come to your rescue anytime. We service the entire Phoenix area and our plumbers are always ready to respond to your needs. We provide honest and reliable pricing based on the job, materials and hours needed to complete the project. When we arrive at your home you can expect a trustworthy, courteous and professional plumbing technician that is licensed, bonded and insured. Our reputation is well known for our value and service. Our emergency plumbing services include, but are not limited to the following:
Sewer drain cleaning
Hydro jetting
Leak detection
Tub shower, faucet or toilet repair or replacement
Laundry and kitchen drain cleaning
Garbage disposal
Backflow repair, installation or certification
Bathtub and shower repair and installation
Pressure Regulator Valve inspection
Tell us your plumbing concerns and we will send one of our technicians to your location right away. It doesn't matter what time of day it is. We are always ready to help.

Why Hire a License, Bonded and Insured Plumber like Diamondback
Diamondback Plumbing has expert technicians who are trained and experienced in all kinds of plumbing work. Your satisfaction is our main concern, so we offer the highest level of service at an affordable price. We fix all kinds of plumbing problems efficiently and quickly. Whether it is 3am or 3pm, our team is always ready to help you. We don't charge after hours and our fees stay the same regardless of the time.
Our plumbers are licensed, so you can relax knowing that your plumbing system is in good hands. We can detect leaks, repair broken sinks, fix or replace burst pipes and dispose garbage properly and safely.