Do you know how old your water heater is? Most water heaters can last up to 15 years if properly maintained. Water heaters are not cheap to replace. Most people want to make them last as long as possible, which depends on a few factors.
What is the make and model of the unit? How often it is used and how well it has been maintained over the years.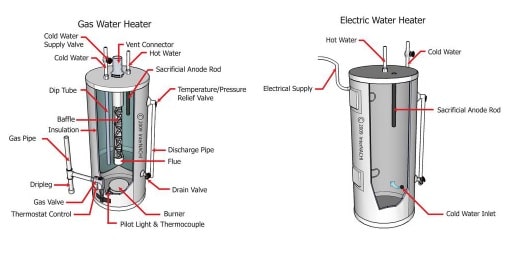 Maintenance is Critical
Hot water tanks require some maintenance, and the plumbing experts at Diamondback Plumbing can help. It keeps your water heater running smoother and can increase your unit's expected lifespan. In addition, our technicians can do a complete inspection to check if your heating system is operating correctly. Our friendly, competent technicians can make repair recommendations if something is wrong. We highly recommend having these annual maintenance appointments. These will ensure that your water heater operates at optimal performance and efficiency levels.
Here is a short video on some essential tips on how to extend the life of your water heater:
Avoid DIY Repairs
Although it may be tempting to handle water heater repairs yourself if you feel something wrong, we recommend turning off the gas and calling an expert as soon as possible. Mishandling a gas water heater can be dangerous, and you could make matters worse. By allowing a licensed, insured, and bonded plumbing expert to handle repairs, you may be able to save yourself time and money from more significant problems as well as increase the lifespan of your water heater.
Call Diamondback Plumbing today at (602) 674-3255 to learn more about our water heater, boiler maintenance, and Phoenix water heater repair services. We also offer a water heater installation coupon and other plumbing coupons to help save you money for your Phoenix, Arizona plumbing.