It is paramount to find the best rainwater drainage system, as it will help in controlling the amount of water collected around your home when it rains. It reduces the chances of getting damages to walls, basements and essential parts of the house. In the installation process, it is important to use the right kind of material to ensure efficient services. Quality materials make rainwater drainage systems durable and efficient in directing water away from the home or into storage tanks. Rainwater can also be harvested and stored at home for future uses. In that case, you require underground pipes that direct rainwater to harvesters. Understanding what it takes to lay and install underground drainage pipes gives you an insight into important elements to consider for installation of rainwater drainage system.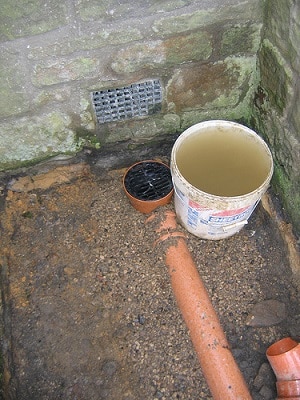 Locating ground drainage runs
The first thing that you need to determine before the installation of underground pipes is the existence underground drainage runs. You can easily locate the underground drainage runs when you flip through your property deeds. They usually have relevant information about existing runs and can show their precise location. Furthermore, they also let you know any other changes that may have been made in the past or recent years. You need to keep in mind that the apartment or building Management Department has to be informed about your underground drainage pipe installation project. In that regard, you will have to provide to them drawings of the works, which should be inspected by the Controlling Officer of the building.
Finding the right drainage pipes
In the local hardware stores for rainwater drainage in Phoenix, you will find a variety of pipes ranging from concrete, vitrified clay, asbestos and UPVC among others. Each of these types of drainage pipes is particularly suitable for a certain environment. One of the ways of distinguishing underground drainpipes form above ground drainage pipes is their color. For underground drains, their surface is brown in color while above ground have a grey color.
Digging trench for underground drainage
Digging is the step that comes first before pipe laying. When digging the trench, ensure that you do not dig too deep prior to pipe laying. This is because in the event there is an overnight rain and other unfavorable conditions, the trench may collapse and be filled with rainwater hence halting your project. Unless you have a sump hole pre-dug for emergency, it is advisable not to dig too deep.
Some of the recommendable things that you need to consider when digging the trench include ensuring the trench is not more than 4 feet, fencing the digging zone, keeping the width at minimum, factoring current weather trend and working with the aid of someone else. When you need a straight run of pipework, you will have to determine a starting point and finishing point and connect them by a string line. The string line is going to give you the correct bedding to place on the trench before pipe laying part of project.
Installing rainwater drainage systems
One of the most vital factors to consider when installing a rainwater drainage system is size of gutter as it determines efficiency and durability. Before starting the project, you need to find the best position for draining. Once you have located an ideal place, run a plumb line and fix a gutter outlet. At the furthest end of the gutter, fix a supportive bracket. Run a string line to the outlet where you will have to fix again supportive brackets. Insert gutter into the first fitting ensuring you put marks for the next fitting when you are through. The last step involves checking water tightness by performing a water test with the outlets blocked. The next important thing that you need to know is the maintenance tips that will make the rainwater drainage system durable and able to perform effectively.
Rainwater drainage pipes and the underground drainage pipes work together to control water flow at home during heavy storms. The advantage of having underground drainage pipes is harvesting rainwater and storing it for future domestic uses. To install an underground water tank, you will need the services of professionals.
On a global scale, rainwater drainage system and underground drainage pipes help diminish flooding and erosion. In addition, it reduces the amount of bill you have to pay for water and the demand for community drinking water as the rainwater is used for washroom purposes. You can also use rainwater in the garden to grow flowers, vegetables or any type of plants. All these are benefits that you can enjoy when you install a good rainwater drainage system and underground drainage pipes that effectively direct storm water into underground water tanks. Professional installation and maintenance of these drainage systems will keep your home safe from water damage and harvest plenty of water for domestic purposes.