Commercial Drain Cleaning Service in Phoenix, AZ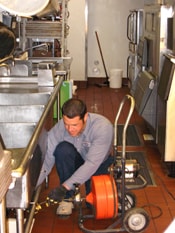 Diamondback Plumbing performs all types of industrial, municipal & commercial drain and sewer cleaning services as part of its line of environmental services.
No problem is too big or small for the team of commercial drain plumbing experts at Diamondback Plumbing.
Drains and drain pipes become clogged for a variety of reasons. Drainage systems at industrial facilities can become clogged as a result of the normal collection and transference of oils, water and other fluids. Plants with track pans will occasionally become obstructed with sand and various materials periodically, these drains must be cleaned out as part of the normal maintenance of the system.
Unlike many other environmental service providers, Diamondback Plumbing crews are uniquely qualified to clean drains in all commercial and industrial environments. Diamondback Plumbing is certified with all the municipalities in Arizona to perform all phases of work in the Right-of-Way and holds the state required A-12 license to work on all drywell / catch basin and leach applications.
Drain cleaning sometimes requires confined space entry and Diamondback Plumbings environmental crews have all the permits and certifications, monitors, confined space equipment and safety lines to do this work as well
24 HOUR EMERGENCY SERVICE
QUICK RESPONSE IF YOUR DRAINS ARE CLOGGED
AT YOUR RESTAURANT OR BUSINESS
 
Call Us Today
Feel free to contact us and schedule an appointment with one of our professional commercial plumbers in Phoenix today! Diamondback plumbing is your one stop shop for all your plumbing needs serving Phoenix and surrounding areas since 1997 with no trip, service or extra charges for nights and weekends. We are available 24/7 – Call (602) 674-3255 today for a free estimate.
Happy Customers
I used Diamondback Plumbing for a slab leak repair a few years ago and they were awesome.
Shannon S., Phoenix, AZ
I can't say enough amazing things about Diamondback Plumbing, specifically Brian and Barry.
Angel D., Chandler, AZ
Had Bryan back at my house again to investigate another potential leak and he is amazing.
Natasha S., Phoenix, AZ
I called DiamondBack Plumbing after another local plumbing company gave me what I immediately assume…
Dani C., Phoenix, AZ
I had a water leak under my concrete slab and DiamondBack Plumbing showed up the next day to locate…
Eva S., Phoenix, AZ
I needed a new shutoff valve installed on my house.
Josh K., Peoria, AZ
I'm selling a house and the buyer's inspection report noted a block sewer line.
Jason R., Scottsdale, AZ
Had a leak under the kitchen sink. Called at 11am and they were onsite at 1pm.
Jeff M., Phoenix, AZ
Owner Steve was quick to respond to my bid request on yelp, gave very competitive pricing and sent o…
K J., Phoenix, AZ